18 Mar 2012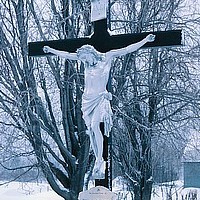 March 18, 2012
Do You Want To....?
Luke 5: 12 - 16
Luke
In one of the villages, Jesus met a man with an advanced case of leprosy. When the man saw Jesus, he fell to the ground, face down in the dust, begging to be healed. "Lord," he said, "if you want to, you can make me well again."
Jesus reached out and touched the man. "I want to," he said. "Be healed!" And instantly the leprosy disappeared. Then Jesus instructed him not to tell anyone what had happened. He said, "Go right to the priest and let him examine you. Take along the offering required in the law of Moses for those who have been healed of leprosy, so everyone will have proof of your healing." Yet despite Jesus' instructions, the report of his power spread even faster, and vast crowds came to hear him preach and to be healed of their diseases. But Jesus often withdrew to the wilderness for prayer.
***
Thoughts.....
Good morning!
Before I touch on todays message, I want to add some comments to the last few weeks thoughts. Actually it is more of a 'note this': Jesus did not wait til he had disciples or apostles to go forth. He didn't wait til he was called into a synagogue to speak. He didn't wait until someone gave him a certificate of ordination for him to begin his ministry. He stepped up as God called, he did what God told him to do, he spoke the truth of a new Gospel, a new way. He healed as he went, he preached as he went, he taught everywhere he went. We should do no less. Receive Holy Spirit, then go.
In the first paragraph we learn that a man has leprosy and requests healing from Jesus. But he doesn't just walk up to him and say, 'Hey, Doc, I need some meds.' He takes the most reverent form of worship....lying prostrate....face down. And then he says, "Lord, if you want to, you can make me well again."
Ok, so what are some of the things we know so far about Jesus? We know that Jesus was the Son of God, a Physician, the Messiah, he was full of the Holy Spirit, by his command people were healed....evil spirits/demons departed them. He spoke to diseases, and, rebuking them, they left the body. By the touch of his hand he healed everyone. He is Lord. The man with leprosy recognized him as Lord.
If he were just a Physician, would he be able to just touch someone and heal them? (Wouldn't that save us all stress, money and insurance costs?!) By the touch of his hand and by saying, "Be healed" he healed this man with Leprosy. You can be healed by him, too. In the same way. You can say to Jesus, "Lord, if you want to, you can heal me." He is LORD! He can touch you, too, and you can be healed. Instantly. Do you want to be healed?
And for those in the ministry, you can do as Jesus did and more. He expects this of you. Do you want to be a vessel for Holy Spirit and do as Jesus did.....heal others?
Do you want to answer God's call fully?
It wasn't because Jesus was a Physician that he was able to speak, rebuke, touch, heal, have evil spirits respond to him. It was because he had received Holy Spirit. Do you want to receive Holy Spirit?
Next, we learn from scripture that Jesus instructed the man not to tell anyone what had happened. We do not know if he did or not, it does not specifically say here. It does say, 'Yet, despite Jesus' instruction, the report of his power spread even faster, and vast crowds came to hear him preach and to be healed of their diseases." Perhaps folks noticed he no longer had leprosy. Perhaps the folks surrounding the Priest, or the Priest spoke up. Maybe he did 'get all excited and tell everybody that Jesus Christ is here'. Whatever happened to get the word out, it got out.....or......Holy Spirit was earnestly doing his job of sending folks to Jesus to reinforce to him and others of Holy Spirit's power.
This is kind of important to think about. It's HOLY SPIRIT in you and through you doing the healing, not you doing the healing on your own power. Paramount to understand. YOU are not the all powerful Oz. You are a vessel for God.
We also learn that Jesus told the man with leprosy to go to the priest and let him examine him, and take the offering required in the law of Moses for those who have been healed of leprosy so everyone will have proof of his healing. HUH? Under the old law, you had to jump through hoops for everything. (Leviticus 14:2-32.) There were an incredible amount of laws regarding everything. I was kind of surprised to see Jesus say this. But then I had to recall the times. I realized he was having to support his Jewish upbringing and the teachings to secure credibility....it allowed him an open door to be heard. He was born for the Jewish people....he was supposed to be their Messiah. He had learned that reading from Scripture declaring who he was almost got him thrown off a cliff. Makes sense to me that he would tell a believer to follow the 'old' laws.
As a Minister, often times you will be ministering to folks not of a denomination (or non-denomination) of which you may be a part. Their belief system may be different than yours doctrinally. You may be ministering to folks who are not Christians, and may choose to not become a Christian, also. It is important to be clear, not offend, not force your doctrinal choices onto others. Those who recognized Jesus as Lord were healed. Presumably, those who will be healed will be recognizing Holy Spirit in us. Some will think it is you/us doing the healing. We must be perfectly clear at all times.....we must give God the glory! Woe to those who do not.
It is not necessary to tell them to follow the old law. It is necessary to point people to God, Jesus, and Holy Spirit. Do you want to follow the old law or the new law? Do you want to do as Jesus did? He gave us the new law...the NEW testament. Will you be a 'successful' vessel everytime? No. Is that about your belief or their belief? How about maybe it's about Holy Spirit's belief. There is a reason some folks do not get healed.....some may be better witnessses for Christ in their illness. Some may need the humility to stay focused on God and be better able to minister. Perhaps their focus would become self-centered rather than Christ centered. I cannot speak for God as to why he chooses to heal someone or not, or why someone may or may not get healed. It is clear in Scripture that those who ask for healing for themselves and even others for whom healing is asked, get healed. The only common denominator is God.
Someone once told me to not be attached to the outcome. It applied to direct sales at the time. It can apply here, too. WE are not the be all and the end all.....God is. WE should not second guess his choices. WE are supposed to do as he has called us, walk in his ways, to the glory of his name. Do you want to? Then step out, making yourself available to Holy Spirit as a vessel for healing.
The very last sentence in this section says, 'But Jesus often withdrew to the wilderness for prayer.' I understand why....do you? This is not a condescending question. This is about having gone through chaos and trials. It's about being in the midst of a ministry....trying earnestly to insure one can hear his voice, his direction, his plan. If you are the be all and do all type of person, always willing to step up for God, you must realize there are times that you may get a call and it not be from God. And there you will be, running around flapping and yapping, getting a job done that may not be yours to do. While God is still calling you for other things. It is absolutely imperative that you hear his voice. Sometimes he whispers. Most times his is a gentle voice. If you are in chaos, will you be able to hear him? Often times I ask God to speak up or only give me once option. More than one choice can confuse me somedays. Don't be afraid to remind him that although we are perfect in his sight, that he may need glasses, and to please be specific, clear, loud, etc.
Let me reiterate, Jesus gives us direction.....withdraw to the wilderness to pray. You do not have to go out into the desert, or a mountaintop. But find a wilderness moment, or place in your life, where you have time and a quiet place to pray. Prayer is a form of communication requiring atleast 2 persons.....speaking and listening is performed. If you only speak when you pray, you are not communicating....praying. You are being selfishly one-sided. Remember when Jesus was upset because the apostles couldn't stay awake a pray with him? Do you really want to upset God? Do you really want to go off acting on your own thoughts in the name of God? Someone once said, 'idiocy is doing the same thing and expecting different results.' Hmmmmmmm.
One must be under authority to be in authority. Wouldn't you rather be under God's authority than Satan's? If it 's God's authority you choose, then, listen to God, Jesus, and Holy Spirit. Open yourself up to hearing what they have to say at all times. Do not rely only on yourself. Find that wilderness and listen to God, Jesus and Holy Spirit.
Are you a Physician? Can you heal others? Can you miraculously heal with a touch? Can you miraculously heal with a word....as Jesus did? I'll spare you here, and say I understand the argument that, if people would listen to what you have to say and act on what you tell them to do, perhaps they would be healed. There are different ways to heal....I get that. I'm talking about Holy Spirit healing here. So, do you want to, as a Christian, miraculously heal? Listen to Holy Spirit. Find that wilderness moment and listen.
It does not take years of education to heal by the power of the Holy Spirit, in the name of God. Do you want to answer God's call fully, and, as a vessel for him, heal others in his name by and with the power of the Holy Spirit? You only have to say, "Yes, Lord, I am willing, send me, I will go".
***
Let Us Pray
Dear God, Jesus, Holy Spirit, cleanse this vessel....me....forgive me of my sins. Please, heal me and make me whole.... spiritually, mentally, emotionally, physically. Make me a vessel in which you wish to inhabit. Please come into my heart, body, mind, life....fill me to overflowing with your Holy Spirit. Share with me the path you wish me to take, carry me along the journey when the going gets tough. Here I am, Lord. I will step out in faith with you to go where you lead. I am willing to be an instrument of your peace....your healing touch. Lead me on the path of righteousness for your sake. I want to dwell only in your house, Lord. Live so that you may have glory. Help me find those wilderness spots and moments whereby I can best hear your voice. Let me always hear your voice. Help me to refine my hearing to insure that it is you I hear. Embrace me, uplift me onto feet shod by you, and send me. I want to go where you lead. Thank you for trusting me. I love you. Amen.
Lord,LordJesJeJeJJjEJJJ JJThe LORD is king! Let the nations tremble! T***
More love....
Benediction....Blessing
Let us hear from Paul as he prays:
When I think of the wisdom and scope of God's plan, I fall to my knees and pray to the Father, the Creator of everything in heaven and on earth. I pray that from his glorious, unlimited resources he will give you mighty inner strength through his Holy Spirit. And I pray that Christ will be more and more at home in your hearts as you trust in him. May your roots go down deep into the soil of God's marvelous love. And may you have the power to understand, as all God's people should, how wide, how long, how high, and how deep his love really is. May you experience the love of Christ, though it is so great you will never fully understand it. Then you will be filled with the fullness of life and power that comes from God.
Now glory be to God! By his mighty power at work within us, he is able to accomplish infinitely more than we would ever dare to ask or hope. May he be given glory in the church and in Christ Jesus forever and ever through endless ages. Amen. Ephesians 3:14-21 NLT
***
Scroll down to read Jesus' Prayer of Thanksgiving...'The Unforced Rhythms of Grace'.
***
Definition of a Christian: Anyone who believes in God, Jesus and Holy Spirit, and accepts Jesus as Lord and Savior. Regardless of church name or religious affiliation.
It is not how we worship, but that we worship....the Trinity!
***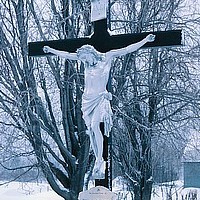 ***
If you feel that the Church of the Holy Spirit has inspired or helped you, we'd like you to prayerfully consider tithing regularly to us or gifting us, so that we can further the work and carry out the will of the Father as proclaimed in Matthew 28:19-20 NLT
to
"Go and make disciples out of all the nations
baptizing them in the name of the Father and the Son and the Holy Spirit.
Teach these new disciples to obey all the commands I have given you. And be sure of this:
I am with you always, even to the end of the age."
***
Our Current Cause
It is time to reach into the community and the world around you to see wherein lies the greatest need. As you choose to focus on these areas, do so with a servant's heart. Whether the need is for children, adults, or animals, or any cause in between that will help those in need, ask God how you can best serve his needs, what path you must take, and how long you should persevere. Sometimes we are to be in the lives of others merely as stepping stones. Sometimes we are to touch those lives forever. Whatever journey you are called to take, whatever team you will be a member, know this: God is with you always...even til the end of time. He loves you, is grateful for you, and will help you along life's way, especially if you are helping others along theirs, persevering with a servant's heart.
Please accept my sincerest thanks....and God's....and may God richly bless you!
***
Checks or money orders can be made out to
Trinity Missions
or the
Church of the Holy Spirit
and sent to
Trinity Missions
P.O. Box 86076
Tucson, Arizona USA
85754
*
If you have any questions, we can be reached at:
866-402-GIFT
10 a.m. - 8 p.m.
Mountain Time
or
Please note Trinity Missions or CoHS in your subject line.
*
As we grow, you will have options for allocating your gifts.
In the meantime, we hope you will trust us to direct them to where the need is the greatest.
***
One last thing....
Jesus' Prayer of Thanksgiving
'The Unforced Rhythms of Grace'
"Abruptly Jesus broke into prayer: "Thank you, Father, Lord of heaven and earth. You've concealed your ways from sophisticates and know-it-alls, but spelled them out clearly to ordinary people. Yes, Father, that's the way you like to work."
Jesus resumed talking to the people, but now tenderly. "The Father has given me all these things to do and say. This is a unique Father - Son operation, coming out of Father and Son intimacies and knowledge. No one knows the Son the way the Father does, nor the Father the way the Son does. But I'm not keeping it to myself; I'm ready to go over it line by line with anyone willing to listen."
"Are you tired? Worn out? Burned out on religion? Come to me. Get away with me and you'll recover your life. I'll show you how to take a real rest. Walk with me and work with me - watch how I do it. Learn the unforced rhythms of grace. I won't lay anything heavy or ill-fitting on you. Keep company with me and you'll learn how to live freely and lightly.
Matthew 11: 25-30
The Message
And the people said,
"Amen."
***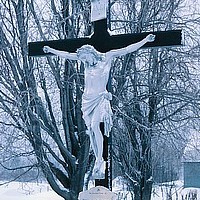 ***

I now write most prayers in the position of ' I ' (first person) because most people are sitting at their computer alone, not in groups, and it allows those reading and praying to personalize the prayer as coming from them going to God. Variations may appear on holidays when families may wish to use the prayer provided.

***

Unless otherwise indicated, all Scripture quotations are taken from the Holy Bible, New Living Translation, copyright 1996. Used by permission of Tyndale House Publishers, Inc., Wheaton, Illinois 60189. All rights reserved.

*

Bible Authors and Minister